Nombre: X-Japan
Estilo: Heavy/Power/Progresivo
Formados en: 1982
X Japan (エックス ジャパン, X Japan) es un popular grupo de rock japonés. El grupo se formó en Tateyama, Chiba por Yoshiki y Toshi durante 1982 y se disolvió en 1997, reformándose en 2007. Originalmente llamado X (エックス, X?), saltó a la fama por su segundo álbum, Blue Blood. Su música se caracteriza por un gusto por el metal clásico, mezclado con líneas de batería rápidas y variables, líneas de guitarra con un fuerte componente progresivo, y grandes influencias de música clásica. X Japan ha vendido más de 20 millones de álbumes y singles junto a 2 millones de videos.
X Japan se disuelve en 1997 con motivo del abandono de Toshi, argumentando éste el rechazo a cantar canciones tristes en el momento de llevar una vida feliz. En mayo de 1998 Hide muere y el resto del grupo, incluido Taiji, se reúnen para tocar en su funeral. El 18 de octubre de 2007 se anunció oficialmente el regreso del grupo.
Canciones:
Kurenai
http://www.goear.com/listen.php?v=9f47462
Art of life (directo)
http://www.goear.com/listen.php?v=f50c66d
Silent jealousy
http://www.goear.com/listen.php?v=2463e82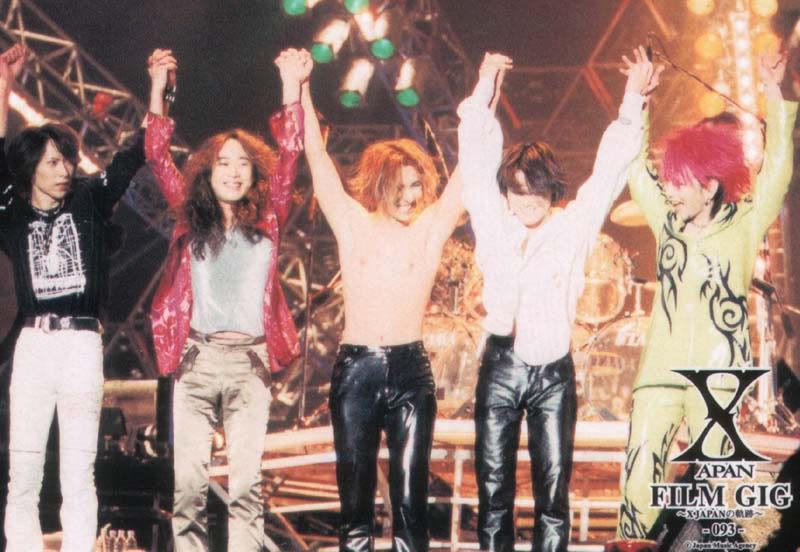 Fuentes:
Para mí un honor hablar de este pedazo de grupo, revolucionario del metal japonés (si alguien lo duda, que escuche Art of life, para mear y no echar gota), y que marcó un antes y un después en el género. Se dice que son los creadores del
Visual Kei
, aunque como siempre, es algo difícil de afirmar. En cualquier caso, fueron los estandartes de ese movimiento, los que hicieron que se conociera fuera de las fronteras niponas.
Y qué decir, el año pasado el grupo se reunió para ofrecer una gira conmemorativa. Una pasada. ¿Vendrán?
¡Un saludo!